Post by smartliketruck on Oct 13, 2016 20:12:24 GMT -8
After some time in the warming oven I pulled the roxul + binder and the perlite + clay + binder. Both had become stiffer but still a little smooshy. I then left them a little while at indoor ambient temperatures still sealed in their baggies. Curiosity overcame patience and I brought the two samples out to play.
I was hoping the roxul tile could be pasted onto a form like paper mache on a balloon.
The thin roxul tile broke like a perfectly moist cookie and it had lost a lot of it's loft, as I removed it from it's polyethylene bag, I played with it a bit in my gloved hands and found it quickly worked into a puttyable texture sticky enough to apply to a mold, so I smeared it on to the outside of a polypropylene 500ml dairy container.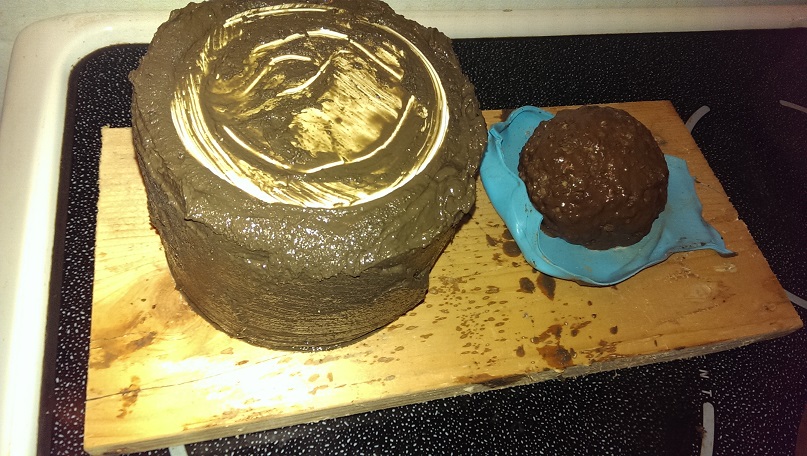 I tried drying the roxul sample in the warming oven but cracks soon formed, I've now brought it inside to air dry at room temperature.
I'll do a high temperature cure when I have other samples to cure at the same time.
The roxul sample is now air dried and is "salted" and has had an amber goo leaking out the bottom, keep in mind I tried an extremely hot lye/clay ratio for this trial.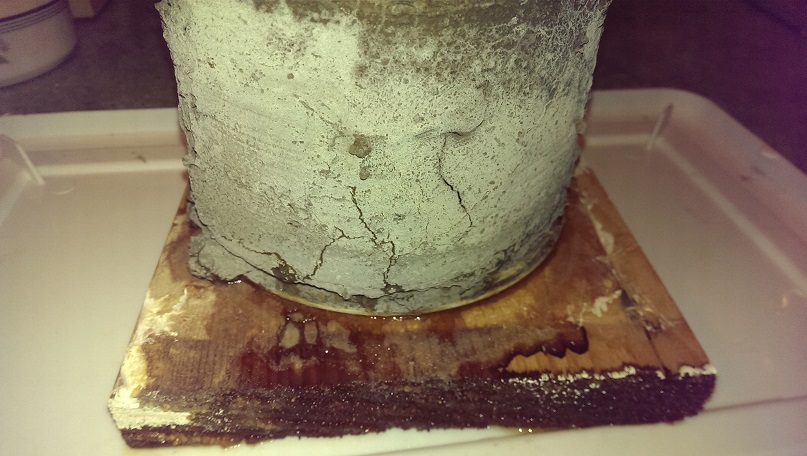 I decided to try the same with the perlite sample. It had been snowing, so I quickly scraped the wet snow off my mixing board and smooshed out the ball. The material quickly lost all of it's loft and with just a little water on the board turned to a drippy batter.
Lesson here is that used with this hot high binder ratio the course agricultural perlite can break down to really small pieces quickly. This may be an alternative to having to mill the material dry if smaller pieces are required. I'll have to try mixing perlite and water to see if this is just a function of wet milling, or if the active binder plays a part. Other than perlite in plant potting mixes I've not dealt with it much.
In afterthought I was going over what I was going to try for aggregate next, there is the blast slag option and there is the sheets of set geopolymer broken up as aggregate option. There is also the roxul and perlite options but roxul at around $10 for a 2" x 24" x 48" sheet that flattens out to near nothing and perlite which at $33 per 110 liters that also flattens out to near nothing. These are not the most ideal aggregates on a cost effective basis as the only aggragate in the mix.
Then it hit me like a getaway car through a fruit cart....
Why not try to polymerize the maximum amount of material before applying it to the form?
With most of my samples I've been making a mix at near ambient temperatures and pouring or smearing it and then trying to treat it as a precious fragile snowflake. Trying to ride the fine line of time balanced with heat to eliminate the water or playing the very slow mold and setting dates on the calendar. Hopefully getting the mixture to a strong enough state for a higher heat curing.
I've read geopolymerization does not depend on the presence or absence of water. I'm only trying to eliminate the water to avoid damage to the structure by expansion and expulsion of steam during higher heat curing or the clay shrinking too fast and pulling itself apart.
I think I need to create as much of a tangled mess of sialates forming matrices as possible earlier in the process.
To maximize the amount of polymers to form I will cook and stir the mixture as much as possible before applying to the mold.
Put another way, I will try to form as much aggregate at the smaller sizes within the mixture rather than introducing outside aggregates.
I cooked the new mixture till crusty on the edges then stirred and rehydrated back to about the same consistancy eight times.
The last time I left it a little thicker so I could smear it on to a form, it was still too wet and soon cracked with drying.
I re worked the clay a little stiffer than modeling clay and then applied to a form and rolled it smooth.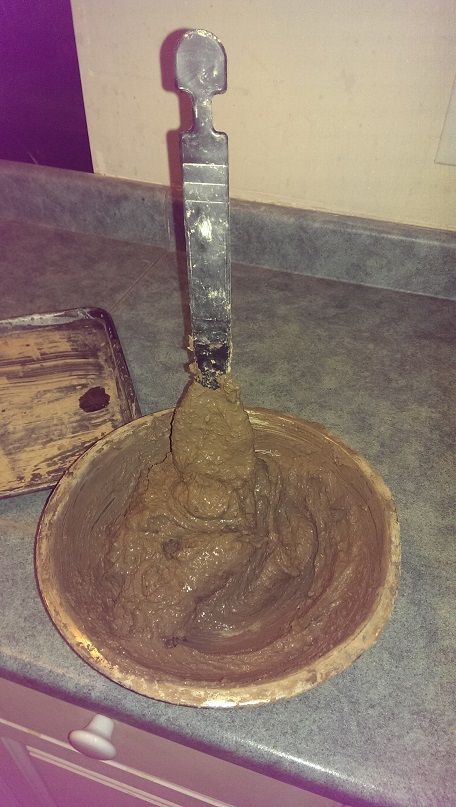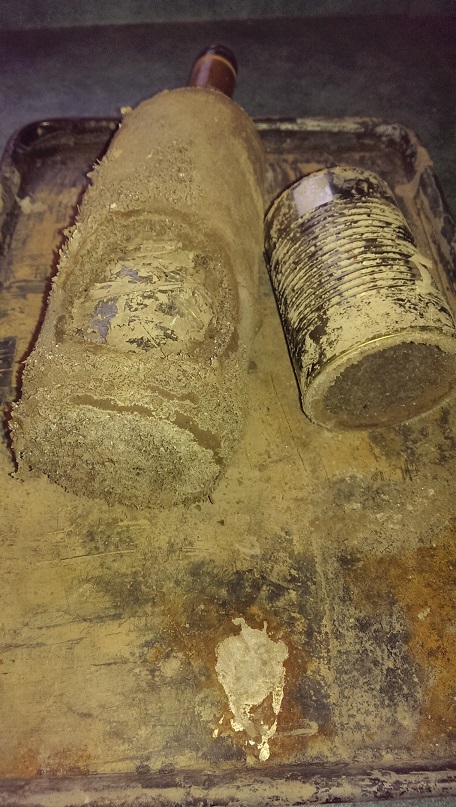 this air dried well but for two cracks, one of which ran right around the middle of the form.
For my next lye + activated clay + water mix I'll try cooking spread out on a sheet, this should cut some cooking time.