Post by matthewwalker on Apr 4, 2015 6:06:04 GMT -8
I have sorta abandoned the term "rocket" when I talk about this since it doesn't have a riser, but I go back and forth. It runs exactly as my home batch does, and they are for sure rocketing when running. If they aren't, it isn't working, so they are still in the same family. One constant as I've moved through the development process for both of these is that velocity through the port and subsequent chambers must stay above a certain threshold, or things just revert back to a wood stove smouldering type state. I call it "front burn", when the firebox looks like you are having a nice fire but nothing's happening in the port. That's the worst, and it is brought on by poor draft or not enough primary. This one is much more stable than my risered versions, it's actually the best burning heater I've experienced, just lights up the afterburner instantly and with incredible stability. So, yeah, lots of rocket sounds!
The oven is amazing, I can't seem to find anything it doesn't do well, even though it's really not that adjustable. I originally built a bypass with the intention of using it not only for start up but for oven temp control. I deleted it after the first few burns as I felt I didn't need it at all and the way I have the oven configured it's difficult to over heat. By the thermometer, it appears to run a little low for most folk's use, which is perfect for me since I like to cook low and slow. However, upon use I've found that it cooks hotter than it shows, I think due to the torque from the mass, maybe? Anyway, a pizza in this thing at 350° comes out looking like I cooked it much hotter. I have baked pies, cakes, bread, pizza, smoked brisket, pulled pork, ribs, beef short ribs, smoked salmon, on and on. It has cooked each pretty much perfectly without a lot of thought from me, just a little more or less wood depending on the desired results.
In terms of details of the build, it's just a bell. I found a cast iron insulated door on ebay. That's it, dead simple.
Here's a shot of the oven interior with flue input/output and oven rack brick stubs.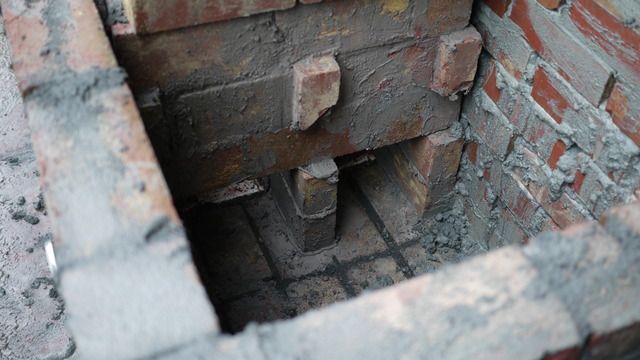 This is the first one I built in my shop in February. Yes, I've built two complete stoves already. I'm still worn out!